Safe Sleeve shown with PTFE Skirt                                     Safe Sleeve shown with Aluminum Skirt
*Low Profile External Gauge Pole Seal comes with either the Standard Aluminum or Stainless-Steel Slide Plate
*Consists of a PTFE, an Aluminum, or a Stainless-Steel Skirt;  a Viton or Buna-N Well Gasket, and a Viton Pole Wiper
*Our unique "Zero-Gap Pole Wiper" moves with, and always maintains contact with, the Gauge Pole
*Provides a Significant Vapor Loss Reduction Alone; and When Combined with our Float, Loss Reduction is Near 100%.
*Standard Sizes Kept in Stock /Custom items made to order
*Custom Multi-Pole Configurations are available, including Ladder Negotiator Sleeves & Thermo-Well Sleeves
*Can be Modified to Suit any Tank Design (example: Larger Plates and/or Custom-Sized Skirts)
*Easy installation / Can be Installed on In-Service Tanks; No Hot Work Required
*Provides Years of Service with Very Low Maintenance; Can Be Installed on any Type of Floating Roof
*Best Available Technique
*Since 1993 our Safe Sleeves are in service all over the world
<<Download Info on our Safe Sleeves here>>
Options:  Install with our Vapor Check Float & Reel for a Complete Sealing System:
                                                  Vapor Check System
Twin Seal Float Assembly with Reel & Bracket
Available in Common and Special-Order Sizes
Vapor Check Reel for Easy Launch & Retrieval
Stainless Steel Cable/No Messy Chains!
Swivels 180 degrees for Easy Access to Gauging
Standard PTFE Seals
Float available in Standard Aluminum or Stainless Steel
Easy Installation; Just Mounts to Pipe Bracket
Also Compatible with our "Drip Sink" with Supplied Pedestal Bracket
Vapor Check used with our Standard "Drip Sink" utilizing a supplied Pedestal Bracket:

The "Drip Sink" helps keep area clean when gauging takes place.
Available in the Standard Aluminum or Stainless Steel
Three versions are available:
Standard: 28" x 16" x 5" / Small: 16" x 16" x 6" / Pan-Style Hatch: 16" x 16" x 1.5"
Available in Multiple Pipe Sizes & Compatible with our Vapor Check & Tall Float; Pedestal Bracket Supplied
Gasketed-Lid for our Cable to pass thru with a sturdy Locking Lid & a Ring Bolt for "Hang from Hatch" type Floats
Optional "Wind Shields" also available
Easy Installation/Takes Place of Gauge Hatch/Bolts Directly to Flange
Standard Sink (28″ x 16″ x 5″):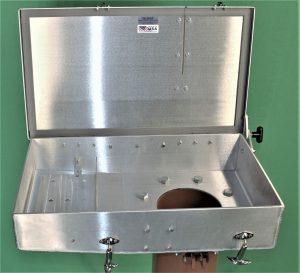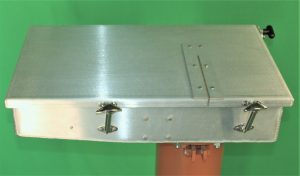 Small Sink (16″ x 16″ x 6):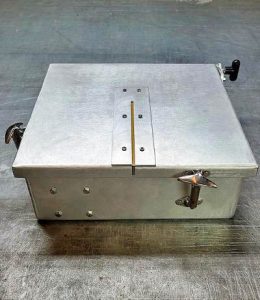 The Small Drip Sink is desirable when the Standard Drip Sink is too Large
Keeps Area Clean when Gauging Takes Place
Available in Aluminum or Stainless Steel
Available in Multiple Sizes & Compatible with our Vapor Check & Tall Float
Gasketed-Lid for our Cable to pass thru with Locking Lid & Ring Bolt for "Hang from Hatch" Floats
Easy Installation/Takes Place of Gauge Hatch/Bolts Directly to Flange
Pan-Style Hatch (16" x 16" x 1.5"):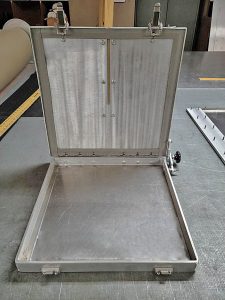 Pan Style Hatch w/No Flange/Hole
All the same Options as the Drip Sinks above in a Pan-Style Hatch
Desirable when a Sink is not feasible, or a Hatch is required
Gasketed-Slit for use with the Vapor Check Reel / Ring bolt for "Hang from the Hatch" Floats
Multiple Sizes Available
Easy Installation; Bolts Directly to Flange with Supplied Mounting Hardware
<<Download Info on our Safe Sleeves here>>
<<Click for Dimensions for Standard Safe Sleeves>>
<<Click for Safe Sleeve Size Sheet for Custom Single Pole Seal>>