Vapor Check Float System
Ultra Check's Vapor Check Float System is the more traditional style of gauge pole float but it has several important features not found in other floats.  The system consists of a Float (canister), Seals, a Reel with its mounting device, and a Stainless Steel Cable and a Weight.
The Float/Canister is normally made of aluminum and will have a small tube passing down through its center. The seals are mounted on top of the float. The number of seals is optional.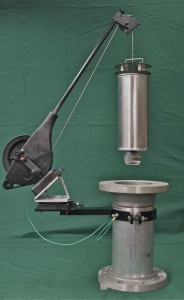 VAPOR CHECK WITH REEL
(SHOWN IN SIMULATION PIPE)

The reel with its stainless steel guide cable is used to remove the float from the gauge pole and to lower the float into gauge pole. The guide cable passes down through the tube in the center of the float with the weight attached on the end of the cable. The weight is lowered to three foot above the bottom of the tank and remains there while the float is able to slide freely up and down as the liquid level changes. The weighted cable maintains the float vertical and centered in the gauge pole and that helps to limit seal wear. By cranking the reel, the weight is pulled up against the float bottom allowing the float to be raised. The float is also lowered to the liquid level with the reel. The reel has a swivel base that allows the float (in raised position) to be moved out of the way of the pole for gauging and sampling.
The weight must be kept about three feet off of the tank bottom (inside the gauge pole) to ensure the weight and float is not affected by the swirling action when cargo is being loaded. This height is also desirable when floating roof tanks are on their low legs as this keeps the float seals near the same level as the seal around the gauge pole. This height can be determined by using the reels built-in depth counter.
Two methods are used to attach the Vapor Check System to the gauge pole: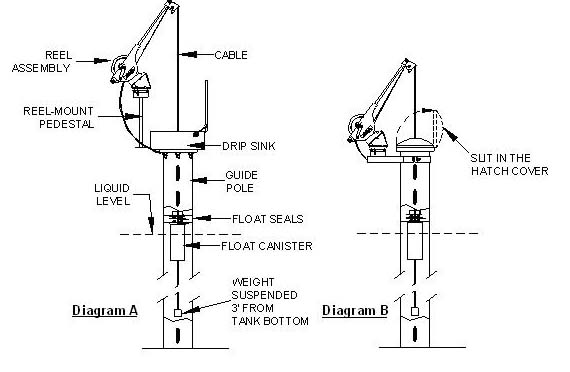 Diagram A) It can be bolted to Ultra Check's Drip Sink (optional); the Drip Sink unit helps control the mess when floats are pulled, samples are taken or when gauging takes place.
Diagram B) The System also can be bolted directly to the gauge pole using Ultra Check's powder-coated mounting bracket.
Vapor Check with Drip Sink

The Vapor Check Reel can be attached to the optional Drip Sink. When the float is removed for gauging or sampling, the reel has a swivel base that allows the float to clear the pole opening.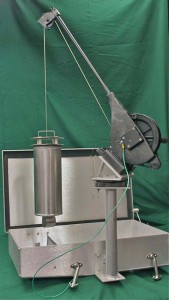 Vapor Check shown with Optional Drip Sink
VAPOR CHECK SCHEMATIC